Books from Wild Goose Press


Edna
by James A. Franks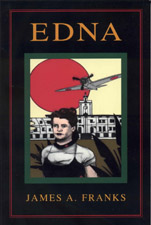 206 pp. Paper. ISBN 0-9657173-5-6.
$14.95 (Canada: $18.95)
This book is partly the story that Edna Gump might have written about herself. It is also the story she was too self-conscious to tell—that of a woman who began her life at the beginning of the 20th century in the American South and who pushed aside the expectations around her in a way that led her far from where she began. Edna was a rebel in the way that many women are; her seditious acts were personal, indistinguishable perhaps from personality quirks, telling only of her unwillingness to lead a predetermined life. Though she met with tragedy as a Prisoner of War in the Philippines, her fate was by no means entirely accidental.
How Edna, a bundle of 20th century ideals and contradictions, ended up in a prison camp and survived is the ultimate subject of this book. She was neither a feminist nor a social anarchist in any way, yet she was one of a small handful of women who, without money or family connections, pulled herself out of the South where there were few opportunities for independent women. In almost every decision she made, she moved farther from her insular family—and closer to some small beacon of her own, known at last, as her destiny.
This is the kind of momentum that takes great courage in a woman's life and usually leaves her with a mixed taste of pride and regret. At times, in her later years, Edna would say, "I never did understand why all this happened to me."

Order this Book About the Author Montana History Links
James Wells of Montana
The Years 1840-1885
by James A. Franks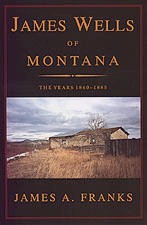 261 pp. Paper. ISBN 0-9657173-0-5.
$14.95 (Canada: $18.95)
The history of the West is revealed in the accomplishments of James Wells (1840-1885). James A. Franks describes the life of this Pony Express rider, stagecoach driver and fur trapper who married a Gros Ventre Indian woman and who became immersed in the customs of her tribe. Running trading posts, making a cattle drive from Texas, founding an important ranch on the Judith River, Wells had great insight into the future of Montana, though he could not have predicted the unjust treatment his Indian wife and children would receive after his death.

"An immensely readable and fascinating book, written with rare humor and warmth... James Wells of Montana is a serious moral vision of the American West and the passing of the Indian way of life."
--- Donald J. Young, author of The Reunion and The Lion's Share

"Bury My Heart at Wounded Knee was the big picture... James Wells of Montana is the personal story that says it all."
--- James R. Cox, author of Classics in the Literature of Mountaineering


Order this Book About the Author Montana History Links
Mary Fields: The Story of Black Mary
by James A. Franks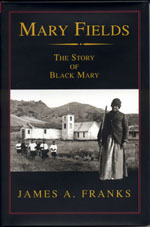 162 pp. Paper. ISBN 0-9657173-4-8. $14.95.

Mary Fields is the latest in a series of historical biographies by James A. Franks. Born a slave in Hickman County, Tennessee in 1832, Mary Fields (Black Mary) was a strong black woman with dreams of freedom. After winning her independence at the end of the Civil War, Mary Fields left Tennessee for St. Peter's Mission in Montana, where she met the author's grandmother. In 1892, at the age of 60, "Black Mary" became the first African American woman ever to carry the U.S. mail, working a dangerous 17-mile route between Cascade, Montana and St. Peter's Mission. This is the inspiring story of a woman who loved life and lived it to the fullest during a challenging period in U.S. history.
"Franks brings history to life in Mary Fields as he did in his first two books... We can understand the history of our American West by seeing through Franks' eyes how the Indians and Blacks related to the white settlers, to a world of stage drivers, traders and missionaries. James Franks, in Mary Fields, give us a remarkably vivid picture of this period in the American West."
--- Donald J. Young, author of The Reunion and The Lion's Share

---
Mary Wells
by James A. Franks
213 pp. Paper. ISBN 0-9657173-3-X. $12.95.
In Mary Wells, James A. Franks tells the story of his grandmother, the intriguing matriarch of a pioneer family torn apart by a cultural clash between the Plains Indians and the white civilization to which the Wells' belonged. The author became interested in his grandmother's story after doing research on his great grandfather, James Wells of Montana, the subject of Mr. Franks' previous book and the father of Mary Wells. As stated by Diana Wyatt, Montana State Representative, "James A. Franks writes from the heart, with historical acumen..." about this family's struggles in Montana through the late 1800s . Through research, the author has reconstructed the story of his grandmother from her letters and the letters of her brothers and sisters in correspondence with Senator T.C. Power and his brother. This is a story guaranteed to draw you in .


---
Grandma Franks' Cookbook
Compiled by James A. Franks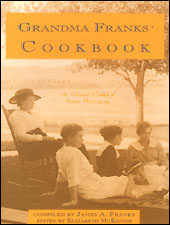 332 pp. Paper. ISBN 0-9657173-1-3. $24.95.

A delicious, historical treasure full of authentic recipes from the turn of the century. Ida Franks' love of cooking shines thorugh this book with over 1500 recipes, including the collection of the Jolly Thimble Club circa 1907. Pages of cakes, whole chapters of pies, putting food by, helpful hints, hot toddies, and how to not only serve tea but divine with tea leaves. Breads, muffins, meats and vegetables all taste good from this collection of recipes. This fine treasure is lovingly compiled by grandson and historian James A. Franks.

"I discovered how much these dishes reminded me of old times and how much a good taste can't be forgotten."
-- James A. Franks

Order this Book
Miss Leslie's Secrets
What Every Bride Should Know
by Eliza Leslie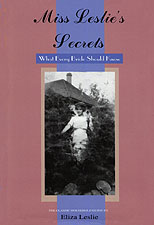 520 pp. Hardcover. ISBN 0-96571732-1.
$18.95 (Canada: $24.95)
Was it really so different in 1854? Rediscover the adventures of domestic life in Miss Leslie's classic guide to cooking and housekeeping. Originally published in 1854 by Eliza Leslie, this reproduced book contains 1,011 recipes that will happily feed families for generations; a treasure for any bride. A fascinating journal filled with seasonal menus, oils, home remedies and perfumery. Recipes range from rhubarb cups, onion custard and fried cabbage to venison, fresh trout and dressing terrapins.

"All the recipies in this book are new, and have been fully tried and tested by the author, and none of them whatever are contained in any other work but this. In it there will be found one thousand and eleven new recipies, all useful, some ornamental, and all invaluable to every miss or family in the world. In it will also be found popular and useful suggestions of immense value in every household, adding greatly to its convenience, its comfort and economy. No woman ought to be without this book."
-- Ladies National Magazine, 1854

Order this Book

Children's Books Published by Wild Goose Press:
I Don't Want to Grow Up
Written and illustrated by Tracy Reilly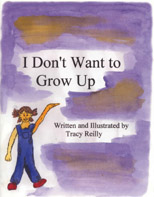 Paper. ISBN 0-96571736-4



"I Don't Want to Grow Up" is a wonderfully illustrated children's book with a message for both kids and their parents. Written and illustrated by first-time author Tracy Reilly, a 22-year old student of Elementary Education at Humboldt State University, this little book is a must for your kid's bookshelf -- and yours!
---
Wild Goose Press
719 Fairmount Avenue
Santa Cruz, CA 95062
Email: Wldgoose2@aol.com
Phone: 831-426-6850
Fax: 831-426-6850